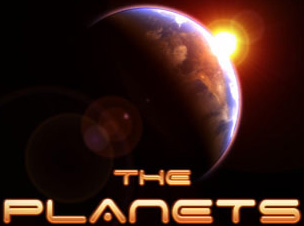 The Planets
Unfortunately, the fall and spring soundtracks aren't the same length, and at the very end it's off by a little under ten seconds.
Setup







Show (36 minutes)
Launch by pressing PLAY/PAUSE on show DVD or ENTER on DVD remote. When rectangular button disappears from the video projector monitor, video projector brightness and contrast up. Zeiss stars on, very slow forward diurnal motion.


4:00: "… shattered comets … and the Earth gained an atmosphere. This early atmosphere was rich in carbon dioxide."
Zeiss stars off.


4:25: "…wondered about all these great events that happened so long ago."
Zeiss stars on.


36:45: Between the end of the credits and the start of the cove lights, PLAY/PAUSE the show DVD and talk about the sky tonight or recent discoveries. Follow right side of Great Square of Pegasus down to Fomalhaut in Piscis Austrinus below Aquarius, RA 22h 58m Dec –29° 37′.
Location shown with green Celestia diamond.
31:04: Sirius. "One of the nearest stars to us …&rdquo


31:30: Pegasus and 51 Pegasi, RA 22h 57m Dec +20° 46′. The Great Square is composed of



32:27: Andromeda.


32:40: υ Andromedæ (upsilon), RA 1h 37m Dec +41° 24′.



32:52: Cassiopea.


32:59: Cepheus.


33:05: γ Cephei, RA 23h 39m Dec +77° 38′.




33:46: Eridanus.


33:50: ε Eradini, RA 3h 33m Dec –9° 27′.



Orion Nebula.
"The existance of these distance worlds is inferred …"
Zeiss zodiac off.





Links